Kodak Awards The FC Group With 'Outstanding Performance in Service ' in March 2019.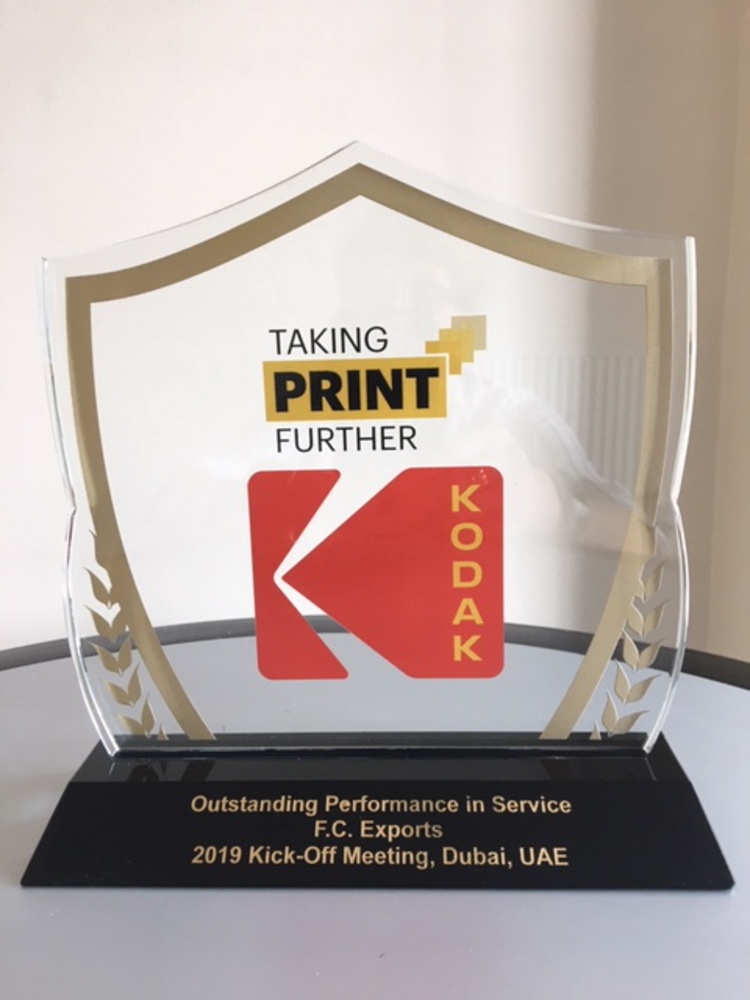 In March this year at the Habtoor Grande Resort in Jumeirah, Dubai, Kodak held a grand two-day event and gala dinner for its Channel Partners which commenced with a welcome by Komal Sharma, Managing Director of Middle East, Africa & South Asia.
Over the two days, there were presentations from Kodak senior partners on all aspects of the business, from new product releases, service enhancements, software updates and a 5-year planning strategy. The meeting was tagged 'Taking Print Further with Kodak'
Jack Dean, Sales Manager, representing the FC Group, was among a group of international Kodak partners meeting over the two days in Dubai. Interactive sessions and team building activities planned around the meeting include golf, beach sports such as tag of war, volley ball, canoeing, water rafting and many other team building exercises.
In the evening of the first day there was a gala dinner with awards being made in different categories to the channel partners. The FC Group are very proud to have won an award for 'Outstanding Performance in Service' which is a great achievement, and a refection of the service that we provide to all our customers in West Africa, Nigeria and Ghana. With a reputation for being the most competitive and reliable international supplier of printing materials to West Africa for over two decades, this special award prove we are best placed to fit the needs of customers with first-class equipment through continued first-class sales and service approach.
The FC Group will continue to grow our reputation for providing this service to our customers by always updating our engineers on new products, and the latest enhancements in servicing procedures and technology being introduced. We have a Service Department with highly trained local engineers and technicians, who supports the needs of our customers across West Africa.
Recently we've acquired a new Equipment Demonstration Building in Ogba, Nigeria, instrumental in refurbishing and re-selling some of our CtP and Digital Machines. A full after-sales service is offered to customers who purchase new or used equipment from the FC Group.